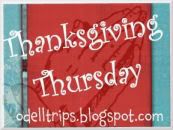 In no particular order....
1. Thanksgiving Thursday - Its been a couple of weeks since I have participated in Thanksgiving Thursday, which is sad for me because it gives me such joy to stop and think about what I'm grateful for in my life.
2. Freecycle. I just think its awesome.
3. My husband, he's been working so hard trying to get his landscaping company off the ground. I'm really proud of him.
4. My son, he's growing so much and becoming more mature every day. Its amazing to watch.
ch
5. My parents. They are coming in a couple of weeks to help me get completely set up to be licensed for home childcare. I appreciate their help so much. Especially with my hubby working so much, I just don't know how to pat