Today, I am thankful for a lot of things. The past few days have been somewhat of a roller coaster in my life. Or rather, in my friend's lives. I'm living vicariously here, mind you. Nevertheless, its been an eye opening couple of days.
I'm thankful for... in no particular order
Flylady - I'm decluttering, a little at a time, thanks to Flylady. I might actually have stayed caught up on my laundry for most of the week too. If you don't know Flylady and your house is CHAOS - you might wanna check it out at www.flylady.net
Craiglist - For allowing me to make a small amount of money on things I'm decluttering... namely my old sewing machine and double stroller. There is so much more to come, but I'm glad to have connected with those people, given them a good deal and made a little money, especially right now.
My friend, Laura - I know it wasn't much, and it was particularly sidetracked by the days events... but our conversation this morning meant a lot to me. I'm not particularly comfortable inside those conversations, I'm sure you could guess. I'm thankful to have been able to talk through some of what I've been feeling.

My friend, Dy - *Clears Throat* I'm a selfish person, let's be honest. I've taken your news and now, I've made it about me. Today, I'm thankful for your news. Because I have learned more about my true desires in the past 36 hours than I would have imagined when I left my house for McDonalds. Thank you for being my friend.

Iced Tea - I'm done being mushy for a second. I'm really happy drinking iced tea. I drink herbal or decaf sweetened with stevia and I'm quite happy.
My kids - My big kids. Growing up way too fast, I'm proud.
My husband - One day, probably on a Thanksgiving Thursday, I will expand on this. I could not do it last week, and I can't do it this week. I've got no words, and you don't read anyway.
Yoga - Again with the non-mushy-ness... I'm glad to have exercise I can do silently and happily while my children sleep.

And thanks to Nicole, the host of Thanksgiving Thursdays and for introducing me to a clip that has made me laugh for an entire week.
>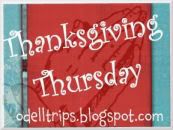 >