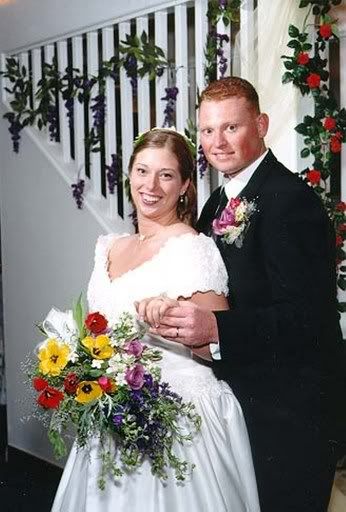 Copied From Facebook.
1. When was your "engagement" anniversary:
July 18, 2000
2. When is your "marriage" anniversary:
May 18, 2001
3. How long have you known your spouse:
10 1/2 years
4. How long did you date/court before you were engaged:
About a year, maybe a bit less
5. Where did you meet your spouse for the first time:
Technically, the Orange County Airport
6. What is your spouse's full name:
Ian Graham O'Betz
7. Do you have any children yet:
Yep.
8. How many:
2, Ethan Michael and Emma Grace
9. Do you have any house pets:
two cats
10. Do you own a house or rent:
We own our house, bought it in 2003.
11. Do you live in the country or town/city:
suburb of a very small city
12. What is one of your favorite activities together:
I love it when we cook together. We also like to watch movies, but never seem to really enjoy the same ones.
13. Do you have a favorite vacation spot:
Its been a while since we've been on a true vacation - so um, Hawaii?
14. How many siblings (including in-laws):
I'm an only child and Ian has a brother.
15. What church do you attend:
We don't attend church.
16. Is this the church you were married in:
We were married by a Justice of the Peace at a Bed and Breakfast in Toquerville, UT.
17. What town is your current address:
Washington, UT
18. Do you work or stay at home:
stay at home currently, working towards a daycare license so I can work at home.
19. Where did you honeymoon:
Palm Springs, CA
20: Leave a piece of marriage advice:
I'm not one to give advice. So I will give someone elses, it *was* part of our wedding ceremony.
Give your hearts, but not into each other's keeping.

For only the hand of Life can contain your hearts.

And stand together, yet not too near together:

For the pillars of the temple stand apart,

And the oak tree and the cypress grow not in each other's shadow.

— Kahlil Gibran, The Prophet, Knopf (1923)