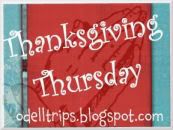 Thanksgiving Thursday
Grandparents. My parents were in town last week. Its such heaven having grandparents around... They were helping me get our house ready for daycare too, which is an even larger blessing. AND THEN, we just visited my husband's family this week (Sunday, Monday, Tuesday). My children are truly blessed with lots of people who love them dearly.
Traveling safely. To my parents, who drove here from Colorado and for us, who drove safely to California.
My Kids. They are growing up, and they amaze me every day. We took them to see
Monsters vs Aliens
on Monday - they did very well in the theater. The only "problem" was that twice during the movie, my sweet almost four year old son got overwhelmed with worry about the main character in the story. He's so empathetic, I'm so proud.
My husband. He's working hard to support our family. I'm glad we are on the same team.
Easter. I'm always gently reminded around this time of year how blessed I am, and how blessed my family is. Even though its been a rough 6 months or so - we are blessed.