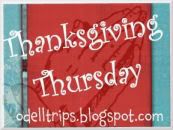 1. A husband who loves me.
2. Good friends. Especially those friends that ask me to push the limits of my comfort zone.
3. My sweet children, who are teaching me more about what's important than I would have thought possible.
4. Home baked bread. (Is it going to be a theme of mine that I give thanks for my indulgence of the week?)
That is all. Today, I'm resting and trying to catch up.... feeling like I always play catch up too.